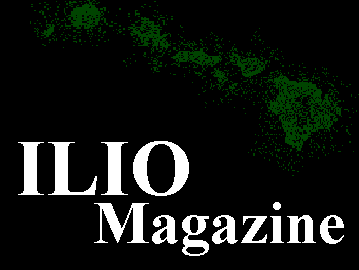 ILIO & POPOKI
Hawaii's Dog and Cat News.
The Ilio is a magazine centering on dog shows in Hawaii. Available at Local Pet Shops and by subscription.
Each full color monthly issue will help you to be informed on the dog show scene in Hawaii. Click on the highlighted links for some past and present examples of our quality publication.

Calender of Events - Don't miss a single show.
AKC Entry Blank in every issue
The Finer Points - Handling tips by Peter Gaeta.
Popoki Prints - Coverage of Hawaii's Cat fancy.
Club Directory - For information on your favorite breed. We have over 30 individual Breed Clubs, and numerous All Breed & Group Dog, Cat, Field Trial, and Obedience Clubs.
Breeder Guide - For the puppy and kitten of your dreams located in the pacific region. Listed are over 60 different breeds.
Obediently Yours -Obedience information by Janis Goto.
Show results - Look for top winners.
Veterinary Directory - Vets that care for the show dogs and cats.
Meet the Vet - Interviews with Hawaii Veterinarians by Peter Ankersmit.
Canine Cast - Your dog's horoscope.
And much, much more!

Click here for some dog related LINKS that would be of good use.






Please e-mail me for suggestions about this homepage and any questions you may have. Contact evanminamishin@juno.com or contact the editor at ilio1@aol.com.